Hampstead Summer Festival
Sunday 7th July 2019
HJC is very pleased to announce that we will be hosting the Lower Stage at this year's Hampstead Summer Festival, supporting a number of local community charities. Between 12 and 5pm, we will be presenting an eclectic array of superb music before the party heads back home to the Hampstead Jazz Club.
Of course, the Duke Of Hamilton will have a special stall opposite the stage that will be stocked with a selection of London's finest draft beers. For those who are looking to take the weight off their dancing feet, we will also be serving up a special summer menu at the Duke, which is just a hop, skip and a jump away from the Festival. Come and support this worthwhile event and continue the live entertainment at the After-Party at the Jazz Club.
Hampstead Jazz Club Stage Summer Festival Highlights
12.00 – 1.00pm – The Northbridge House School Choir
1.00 – 2.30pm – Hampstead Jazz Club Presents – A supercool selection of some of our favourite HJC regulars including our very own songstress Drou, the magnificent Canadian singer, Lauren Bush and jazz singer, Babs Savage alongside a very special soul set presented by our esteemed Musical Director, Ciyo Brown, featuring rising R&B star, Teshay Makeda.
2.30 – 3.00pm – Erran Baron Cohen – Hampstead Happenings – Award-winning composer Erran Baron Cohen has written scores for a host of hit films including Borat, Bruno and The Dictator. For this exclusive show, he will be mixing up a selection of classic covers and original compositions in his own inimitable style.
3.00 – 3.30pm – The Independent Musicians Collective – The irrepressible eight-piece vocal group put their own unique twist on a stack of infectious soul, disco and pop classics.
3.30 – 4.00pm – Wasted Youth – The recipe is simple: A proper rock and roll band performing a stack of ageless rock and roll songs. What could be better?
4:00 – 4.30pm – The Just Jazz & Blues Band featuring Jules Underhill – This first class six-piece band deliver a delicious blend of laidback and lazy jazz and blues songs. Perfect listening pleasure for a sunny summer afternoon.
4.30 – 5.00pm – Mad Dog Bites – Finishing off the Hampstead Summer Festival in fine style, the brilliant Mad Dog Bites are back once again to deliver a jumpin' jukebox full of rumbustious rock and roll.
Hampstead Jazz Club After Party
5.15 – 5.45pm – Independent Musicians Collective
5.45 – 7pm – The Hoochie Toots – The vintage velvety smooth vocals of The Hoochie Toots are the perfect way to finish the Hampstead Summer Festival party in style as they swing and jive their way through some of the most timeless songs of the 40s, 50s and 60s, taking you on an evocative musical journey that goes from Glenn Miller all the way through to Nina Simone.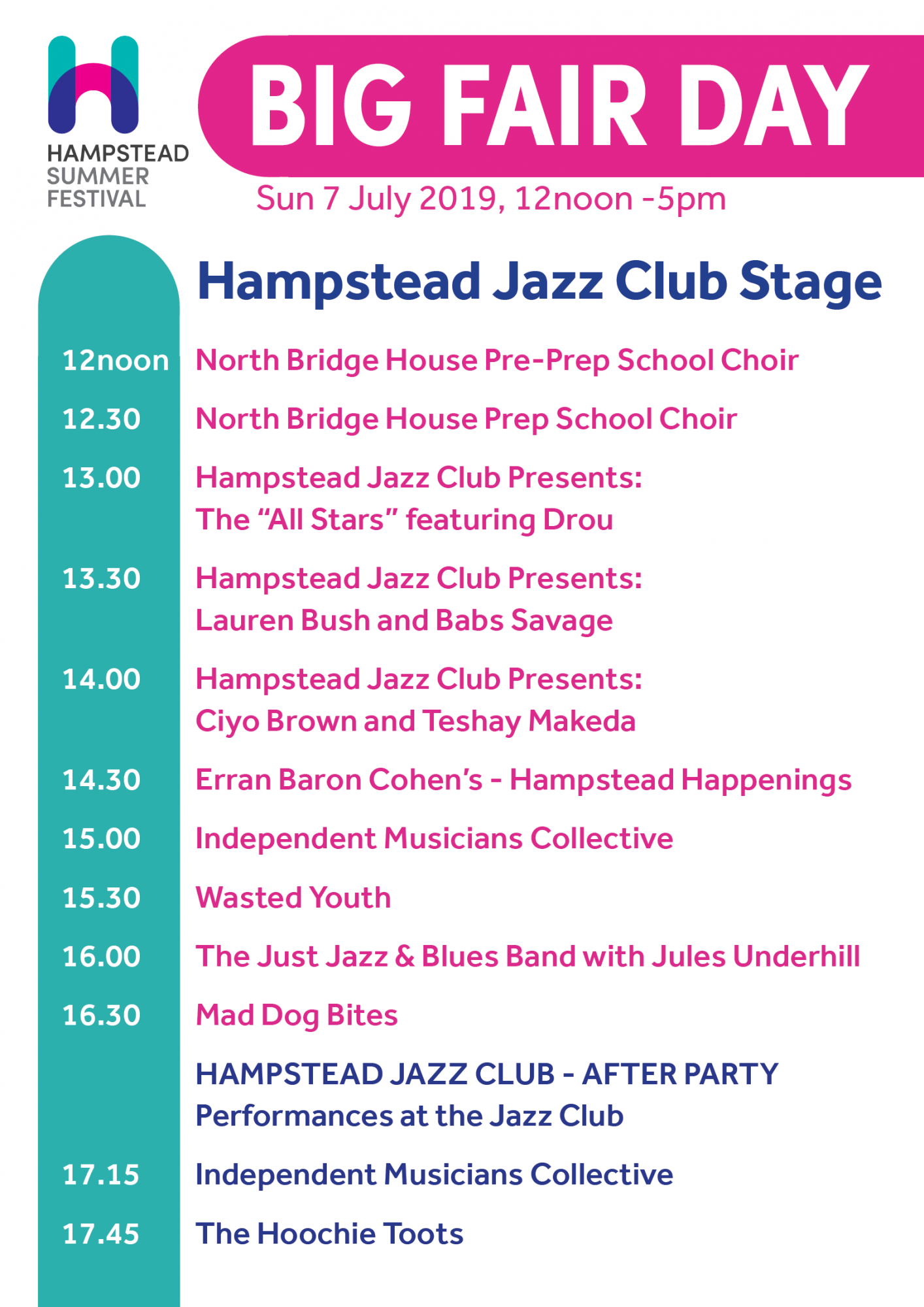 Showtimes